The Dragon Rider returns!
The last winged horses are on the brink of extinction. At a sanctuary for threatened creatures, the home of a young dragon rider and his silver dragon, three foals lie curled up in their eggs. The foals are in great danger and the only cure seems to be the sun-feather of a griffin. But griffins, creatures with the head of an eagle and the body of a lion, are a dragon's fiercest enemy, and they live far across the world in the sweltering jungle. A dangerous and exciting adventure begins ...
The sequel to Cornelia Funke's international bestseller!

A fantastic audiobook adventure
with Ben and his silver dragon Firedrake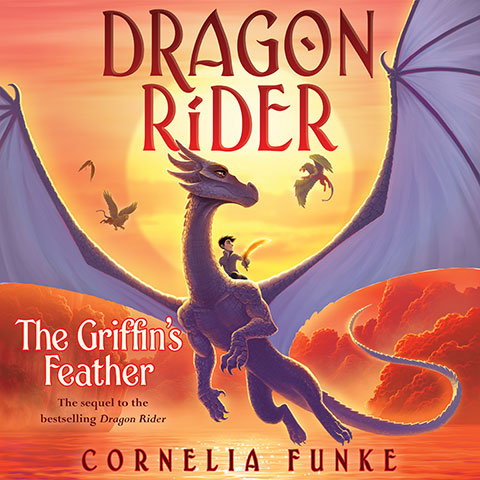 Audiobook details
Author: Cornelia Funke
Read by: Marc Thompson & the author
Unabridged audiobook: ca. 574 minutes

Staged reading accompanied by scenic sound design and music
From the Norwegian forest to the wild jungle of Indonesia: In the sequel to Dragon Rider, Marc Thompson is the voice of Ben, Barnabas and Firedrake. He takes our ears and minds on a unique journey, effortlessly transforming his voice from the deep rumble of a troll to the lisp of a tiny homunculus. Cornelia Funke introduces her story with an emotional preface and speaks the part of Guinever and Vita Greenbloom, Ben's sister and mother.
Music, sounddesign, production & direction: German Wahnsinn Team. Featuring: Lute / Theorbe: Rolf Lislevand, Violin / Viola: Stefan Pintev, Cello: Boris Matchinm, Transverseflute: Leandro Saint-Hill, Vocals: Benedikt Ruchay.
Audiobook details
Author: Cornelia Funke
Read by: Marc Thompson & the author
Unabridged audiobook: ca. 555 minutes
Formate: 10 CDs finished in a lavishly designed box with gold foil and embossing or as download

Download-Version
25 $ / 21,99 €

Who's Who?
Meet all (fabulous) creatures!
The places for adventure
Explore a world full of fabulous creatures!
One story – two voices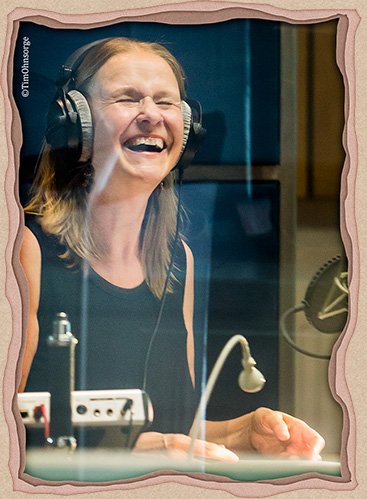 Cornelia Funke
Cornelia Funke is the New York Times best-selling author of the Inkheart trilogy, The Thief Lord and a host of popular children's novels and picture books. Cornelia initially worked as an illustrator but soon began writing her own stories. Her international breakthrough came with the fantasy novel Dragon Rider, which spent 78 weeks on the New York Times bestseller list.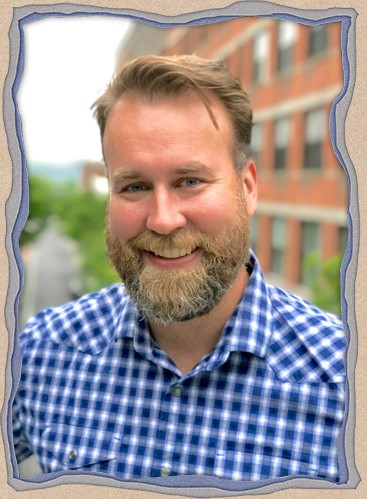 Marc Thompson
Marc Thompson has been voice acting for 15 years. He has worked on everything from cartoons to commercials. His versatility and creativity have allowed him to give countless memorable performances. He is the narrator of numerous Star Wars audio books including the Legacy of the Force and Fate of the Jedi series.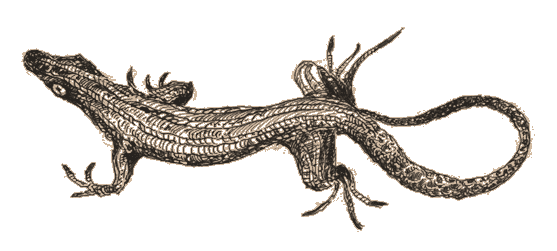 How to produce an audiobook
A glimpse behind the scenes

Reviews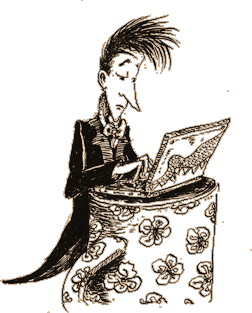 »Again and again, the author herself stresses how her stories come to life completely only through voices and sound:
"The Griffin's Feather" is literally the breathing proof.«
Eselsohr

»Best children's audiobook ever!«
BRIGITTE MOM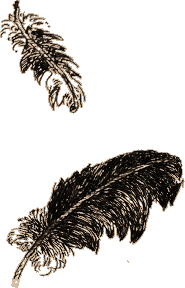 »The unabridged reading of the latest Funke book is just as magical as its content. Both Rainer Strecker and Cornelia Funke are so vigorous in their performance, it's a breeze following the rescuers from the Indonesian Jungle back to the Pegasus eggs in MIMAMEIDR in a flash. A fabulous listening pleasure – the story of a world full of magical creatures has never been told with more beauty. […]«
n–tv.de

»With great vocal versatility, Rainer Strecker illuminates a fantastic story. In combination with dramatic music and a beautifully designed CD case, this audiobook makes for a precious listening treasure.«
Winner of the best-of hr2 audiobooks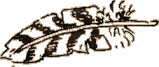 »A wild, fantastic adventure, powerfully narrated in this audiobook. A thrilling pleasure!«
Deutschlandradio Kultur

»[…] Rainer Strecker's performance is extremely versatile. Croaking, lisping and grumbling like there's no tomorrow – right up to the big showdown which almost takes your breath away. […]
A true must-have for "Dragon Rider" fans. We dare say: The audiobook is even better.«
BÜCHER Magazin

»Rainer Strecker is quite literally a fabulous narrator. With great enthusiasm, he lends each character a unique voice. It's a smooth transition to an audio drama. […] The production studio German Wahnsinn really splashed out: The music displays Hollywood-like opulence without ever disrupting the narrative flow – and that's a good thing. This audiobook is proof that a cross between a reading and an audio play can work marvelously, resulting in massive listening pleasure.«
SWR 2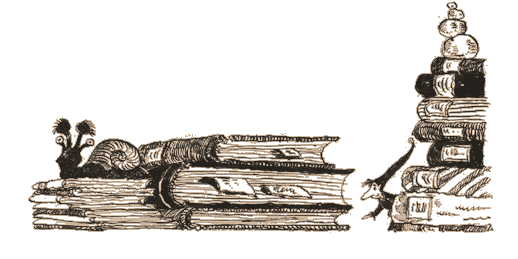 Atmende Bücher
What or who is Atmende Bücher
What is Atmende Bücher?
Cornelia Funke has always been fascinated with the spoken word. Aiming for more artistic and economic freedom, she and audio book producer Eduardo García established the audio label Atmende Bücher (as a pendant to Funke's own USA book label Breathing Books).
The sound artists of the recording studio German Wahnsinn make Cornelia's books breathe: Lavish sound design, cinematic compositions and meticulously recorded voices form a marvelous soundtrack, thrilling the listener and guiding them through a fascinating sonic experience.
What we are excited about …
We are planning one to two productions a year according to Cornelia's book publications. To compensate for the time in between, we produce some of Cornelia's short stories – being able to quickly put these projects into motion is what makes Atmende Bücher so special!